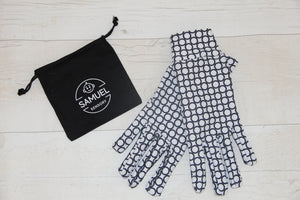 Our sensory play & development gloves combine the two things that babies love most; fingers and high contrast images.
There's not much newborn or young babies can play with until about 4 months when they can grasp things for themselves. Until then they are completely reliant on us for their amusement and entertainment! Whilst they love looking at black and white pictures, they also love watching the movement of hands and fingers. Our gloves put these together and give you a great productive activity to do with your baby. Think of it as baby workout for their eyes and brains! Spend quality time playing and bonding with your baby whilst aiding their development.
Did you know that as well as being stimulating for babies, black and white is also comforting and calming in their new overwhelming world!
Our gloves are lovely and soft and are made of a mixture of polyester silk and elastane. `Our patterns are printed using a method called sublimation which uses a high quality dye which meets stringent safety standards. Our gloves are also tested in the UK to ensure they are perfectly safe to touch babies delicate skin. They are pH neutral, colourfast to saliva and free from formaldehydes and Azo dyes.
They also come with a handy cotton pouch to keep them safe and clean.
Amazing
My little girl loves these products they are amazing. She loves interacting with them!!
6 week old intrigued
My little girl is almost 6 weeks and seems to get a fair bit out of these - I sit her in her bouncer, have a coffee with one hand and wiggle my fingers at her with the other. Bought these because I was instinctively trying to entertain her with my hands, so these add to it! Pattern might be a little small for her right now but still plenty of wiggles and happy coos and she'll track the glove with her eyes